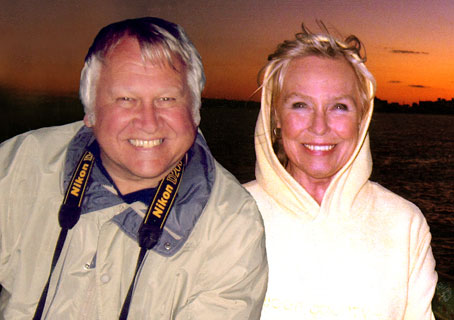 Cris Kohl and Joan Forsberg, well-known maritime historians, scuba divers, authors, lecturers, photographers, and videographers, are a husband-and-wife team who love to explore shipwrecks, particularly those in the Great Lakes.
They both have university degrees in History, and underwater archaeology certifications from Great Britain's Nautical Archaeological Society (NAS).
Cris, a prize-winning underwater photographer, is a past board member of the Ontario Underwater Council. In 2008, he received the Lifetime Achievement Award from "Our World — Underwater," and in 2013, the Save Ontario Shipwrecks Marine Heritage Award.
Joan was a three-term President of the Underwater Archaeological Society of Chicago, and was inducted into the international Women Divers Hall of Fame (WDHOF) in 2010, for which she became a three-term Chairman of the Board and continues to work on various committees.
The authors of 17 books and the producers of 16 documentaries and five shipwreck maps, they have been interviewed many times about shipwrecks on radio and on television venues such as the History Channel, the Discovery Channel (including its "Expedition Unknown" series), CBC, CTV, CBS, and PBS.
"DIVE ONTARIO! Here We Go Again!"
This program starts with a bit of reminiscing — with some of the images that Cris Kohl used in the very first presentation(called "DIVE ONTARIO!" and based on his third book, published in 1990) made at the very first "SHIPWRECKS!" Show in the spring of 1995.
He and Joan will transition into "update mode," complete with underwater video of various shipwrecks in Ontario waters that they have both explored over the years since then, such as the wreck of the dredge MUNSON in Lake Ontario, the schooner WILLIS and the tragic composite steamship, CLARION in Lake Erie, plus the wrecked schooner, JANE MCLEOD and the purposely-sunk freighter NIAGARA II in Lake Huron.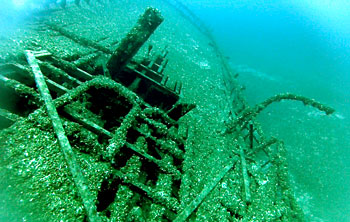 They will also provide information about a few shipwrecks in Ontario waters that are still being sought by scuba divers. But this presentation will culminate with the most recent discoveries of the two historic Georgian Bay shipwrecks, the J. H. JONES and the MANASOO found in 2018 by the team of Ken Merryman, Jerry Eliason, and Cris Kohl — AND THE ANNOUNCEMENT OF A NEW SHIPWRECK DISCOVERY IN ONTARIO WATERS!