Kevin Magee was certified for scuba in 1984, moved to Cleveland, Ohio, in 1993, and discovered shipwreck diving in the Great Lakes shortly afterwards. He enthusiastically practices diving shipwrecks in Lake Erie and the other Great Lakes. Kevin is the co-founder and Deputy Director of the Cleveland Underwater Explorers (CLUE), an organization that searches for shipwrecks in Lake Erie and has found more than 35 shipwrecks since its creation in 2001. He is a Senior Mechanical Engineer for ZIN Technologies, Inc., and is a contract engineer at the NASA Glenn Research Center.
Cindy LaRosa began diving the Great Lakes in the early 1990s, has over 1,000 logged dives, and holds numerous dive certifications up through Advanced Nitrox. Cindy is a member of the Cleveland Underwater Explorers (CLUE) and regularly assists in the shipwreck survey work of both CLUE and the Maritime Archaeological Survey Team (MAST). Cindy works as an Official Court Reporter and has two decades of experience working at Cleveland Municipal Court and Cuyahoga County Court of Common Pleas providing a verbatim record of criminal and civil court proceedings.
Diving Iceland: The Cold and the Beautiful 
Iceland is becoming an increasingly popular destination for divers.  It presents challenges with its very cold 3-degree C water, but the stark beauty of its volcanic landscape above and below water is incredible.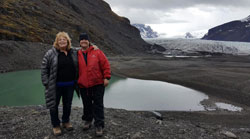 It also offers the unique opportunity to dive between tectonic plates.  Great Lakes divers are uniquely prepared for diving this destination, and wonderful dive sites and landscapes abound.