Jim is a Research Assistant for ZIN Technologies, Inc. He learned to dive in 1966 and began researching Great Lakes shipwrecks, ultimately making his first discovery, the steamer Sand Merchant, in 1969. Jim has been researching and discovering shipwrecks in the Great Lakes ever since. For over 40 years he has been involved with locating the majority of the shipwrecks in the Cleveland, Ohio, area of Lake Erie. As an avid researcher, he spends many days out of each year scouring libraries and archives for ship and shipwreck data pertinent to the Great Lakes. He has accumulated a vast research collection and body of knowledge on ships, shipbuilding techniques, and shipwrecks.
Jim is the Chief Researcher for the Cleveland Underwater Explorers, Inc. (CLUE), which he joined in 2004.  In 2001 David VanZandt and Kevin Magee founded CLUE, which is a non-profit corporation dedicated to researching, locating, exploring, and documenting maritime cultural history with special emphasis on the Great Lakes.  CLUE is based in Cleveland, Ohio and consists of individuals skilled in the many areas required for underwater exploration, including historical research, ship construction, underwater remote sensing, maritime archaeology, mechanical and electrical engineering, and scientific and technical scuba diving. CLUE has discovered and documented over 20 shipwrecks.
"The Mystery of the C.B. Lockwood"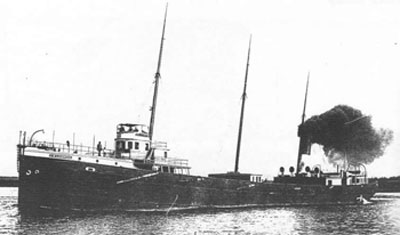 At almost 300 feet long, the steamer C.B. Lockwood was one of the largest wooden ships to be lost in Lake Erie when it sank in October, 1902, off the Grand River, Ohio.  Its loss offers a harrowing account of 12 hours spent in a small yawl boat for the nine survivors, including the captain and his wife. 
However, the real mystery is why – after all these years and many searches for the wreck – has it not been found?  The wreck was marked with a buoy and extensively surveyed by the U.S. government soon after it sank, and yet the wreck has not been located since divers started searching for this elusive wreck over 40 years ago.  The Cleveland Underwater Explorers (CLUE) solve this mystery and reveal the final resting place of this shipwreck.