What can you say about David Trotter?  David has given more presentations than any other speaker at our annual Shipwrecks Symposium.  He just keeps discovering shipwrecks and as long as he does, we'll keep inviting him back!

David Trotter is a renowned shipwreck discoverer, deep diver, author, lecturer and photographer.  In over 30 years of diving, he has been the first to locate, identify and document 70+ Great Lakes shipwrecks.  His shipwreck discoveries and programs have been featured on television and in newspapers throughout the U.S. and Canada and in Gerry Volgenau's book "Shipwreck Hunter".  He has written several articles on Great Lakes shipwrecks that have been published in historical journals and national scuba diving publications.
Dave is also a recipient of the Prestigious 40th anniversary 2010 Our World Underwater "Outstanding Achievement Award" for significant contributions to diving.
Through Undersea Research Associates, founded to present the Great Lakes community with an electronically sophisticated means of underwater search and survey for archaeological and commercial purposes, he presents visual underwater time capsules of marine history.  Utilizing state-of-the-art side scan sonar, with outstanding skilled operators, the organization offers high resolution bottom profiling at depths to 1,000 feet, underwater site survey and underwater photographic documentation.
Silent Waters; Deadly Depths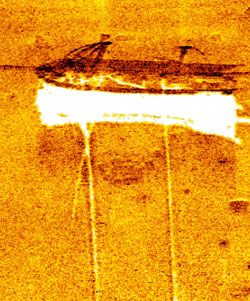 David Trotter and the URA team have located and have been exploring one of the most intact schooners to be discovered in Lake Huron. The 135′ two masted Marion Egan made her first trip on May 15, 1861, just one month after the first shots were fired on Ft. Sumter, South Carolina (initiating the Civil War). Built in Huron, Ohio, in the winter of 1861 by J. F. Squires, the Egan was launched in the spring, and commanded by Captain Soper. During the Civil War, she was very profitable for her owner due to the increased demand related to the war effort, and her A1 rating facilitated her sale to Taylor, Browne & Co. (coal & wood merchants) in 1866.
She continued in service, changing owners twice, before running aground on Cove Island at the entrance of Georgian Bay, Ontario. Abandoned, she was purchased, recovered, and $3,000 was spent on her rebuild in the fall of 1873.
The Schooner Egan, on September 23, 1875, was upbound and moving swiftly in the middle of Lake Huron due to favorable wind conditions. Her cargo of coal was destined for Chicago. Downbound, the Schooner E. R. Williams was wheat laden and on her starboard tack when the mate on watch saw the red light of the Schooner Egan. Just before the collision, the green light on the Egan became visible, and in less than two minutes the vessels brutally collided, nearly head on. The Egan slid beneath the dark waters, reportedly disappearing in less than 10 minutes. Her sinking turned deadly, with Captain Louch losing his son, Patrick, who was a sailor onboard. A second crewman also drowned.
The Schooner Egan's rebuild in 1873 is fortunate for Great Lake marine history and contributes to her remarkable state of preservation during the 135 years she "went missing" and lay hidden in the cold depths of Lake Huron.
In the Spring of 2010, the URA team continued survey operations in a small area of Lake Huron that remained to be searched from prior expeditions (earlier in the decade). The masts and wire rigging, shorn of the sails after 100+ years of swaying in the currents, reached out and nearly "caught" the sidescan sonar (fish) trailing behind the RV Obsession. This is not the first time that "running hard and fast" has nearly caused the survey equipment and the wreck to collide. Several years prior, the "fish" missed a large steel hull by less than 5′. Nothing ventured; nothing gained………..Expedition divers were amazed to find covered cargo hatches, the intact stern cabin, dishes in the cabinets, and a monocular spyglass in the holder. According to the underwater explorers, it is a unique experience to "go where no one has gone before", "to see what no one has seen before", and to have history "come alive" by swimming back 135 years in time.