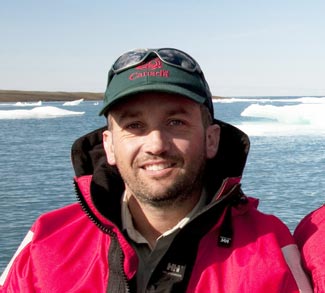 Jonathan Moore is an underwater archaeologist with Parks Canada's Underwater Archaeology Service based in Ottawa. He grew up in Kingston, Ontario where he attended Queen's University.
He later obtained a Master's degree in Maritime Studies from the University of St. Andrews, Scotland. He has been diving for over twenty years. Jonathan was part of the Parks Canada team that discovered the wreck of HMS Investigator in 2010, and has been on two Arctic searches for the wrecks of HMS Erebus and HMS Terror in 2008 and 2010.
The Discovery of HMS Investigator
HMS Investigator set out from England in 1850 under the command of Captain Robert McClure with a crew of 69 men. Their mission was to search for the ships and men of Sir John Franklin's ill-fated 1845 expedition that was attempting to find a Northwest Passage.
While Investigator's crew did not find Franklin's ships Erebus and Terror, nor its crew, they themselves ended up transiting a Northwest Passage, albeit partly by sledge over ice. Forced to abandon the Investigator in 1853 after it became trapped in the ice of Mercy Bay, Banks Island, the crew eventually reached the safety of other Royal Navy ships in the Arctic. Thereafter the Investigator was presumed to have sunk in Mercy Bay.
Jonathan's presentation will give a first-hand look at Parks Canada's Investigator survey as it unfolded on the shores of Aulavik National Park in July 2010. It will outline the team's preliminary steps, background research, equipment preparations, and the search and discovery. He will point to archaeological fieldwork that took place on land in parallel with the underwater work, notably a survey of a cache of supplies left by the Investigator's crew, as well as the discovery of the graves of three sailors who died of scurvy. The presentation will show what the team has learned about the Investigatorand where the project will lead in the near future.