An inductee in the Women Divers Ha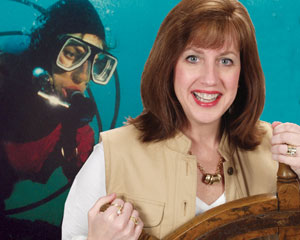 ll of fame, award-winning author, and regular guest speaker, Valerie has explored and documented shipwrecks for over twenty years and her efforts recently led to an award from the Historical Society of Michigan for excellence in preserving and promoting Michigan's maritime heritage. Not only has her work been featured in many books, but she writes articles, produces documentary films, designs museum exhibits, and has appeared on an episode of History Channel exploring a Chicago shipwreck. Valerie serves as director of the non-profit, Michigan Shipwreck Research Associates and spearheads the team's search for ships lost off our shores. She is the author of two books, both winners of Michigan State History Awards: Icebound! The Adventures of Young George Sheldon and the SS Michigan, and Buckets and Belts: Evolution of the Great Lakes Self-Unloader, co-written with historian William Lafferty. Her latest book, Lost on the Lady Elginjust came out on the 150th anniversary of the sinking of that vessel. Valerie's web site is valerievanheest.com
Lost on the Lady Elgin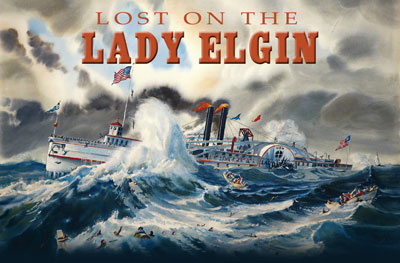 When her hand touched the wood stock of a musket laying in a field of debris on the bottom of Lake Michigan, all that remains of the once palatial sidewheel steamer Lady Elgin, named after the wife of Canada's Governor General, it ignited a passion for the study of the tragic circumstances of her sinking in 1860, which resulted in the deaths of over 300 people. Now, 150 years after the disaster, Valerie Van Heest, an award-winning author and member of the Women Divers Hall of Fame, brings the audience back in time….
…To the golden age of passenger travel on the Great Lakes… to the eve of a presidential election… to the brink of Civil War facing a young nation… and… to a dark, stormy night when 400 excursionists on board the Lady Elgin were awakened in the middle of the night by the sound of a terrible crash.
Within just a few hours, most of them would perish in what became the deadliest disaster on the open waters of the Great Lakes.
More than a century later, the discovery of the wreck and recovery of a treasure would ignite a legal battle that would mark a legal decision affecting all Great lakes divers and explorers.