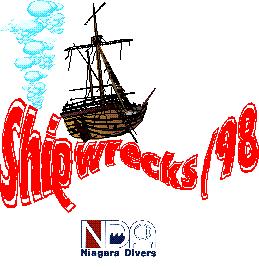 The fourth annual symposium on Shipwrecks, organized by the Niagara Divers' Association, a Niagara-based dive club of about 50 members, was held on Saturday, February 28, 1998 in Welland, Ontario.
The one-day event featured a total of nine multimedia presentations with speakers from Ontario, British Columbia, Michigan, Ohio and Florida giving presentations on Shipwrecks ranging from recreational through to technical requirements, as well as expanding the history of a number of Great Lakes shipwrecks.
The program, lunch and refreshments were enjoyed by all of the 450+ attendees.