Tony Gramer has been diving since 1977, is a certified PADI Divemaster, President of Silent World Information Masters, Inc. (SWIM), on the Board and Divemaster of Dossins Museum in Detroit, Michigan. He is the winner of many worldwide UW Photo Contests. Speaker; Boston Sea Rovers, Our World Underwater, Beneath The Sea, Niagara Divers', Scubafest, Great Lakes Shipwreck Festival, museums, historical societies, schools, dive clubs.
His main interest is photography/videography, researching and diving shipwreck schooners and brigs. In 2011,2012 and 2015 he recorded four half hour programs for "Every Thing Great Lakes" and "So Far, Safari" on CMNTV.
Tony will have two separate presentations at this year's event.
Lost in Seven Minutes 'The Tug O Wilcox'
The 123 foot tug Ozias Wilcox was built in 1869 in Detroit MI. She was best in class on the lakes, with an A2 rating; she was valued at $10,000. In her last days, she was under charter to bring a raft of logs from Georgian Bay to Bay City.
She met her fate in a large gale on August 29,1893. She went down in seven minutes in twenty-five fathoms of water approximately fifteen miles from Tawas. Captain Ed Ellison located her in the summer of 1999.
John Shaw 'Went Missing'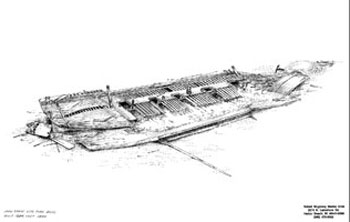 The 206-foot three-mast schooner John Shaw was built in 1885 in Bay City, Michigan. At 3:00 am on the morning of November 13, 1894 the steamer John F. Eddy bound for Chicago was towing the John Shaw loaded with 1,759 tons of coal.
While crossing Saginaw Bay they met with a large gale and snowstorm. The Shaw sprang a leak and broke her towline from the Eddy; she foundered just off Greenbush Michigan in 128 feet of water. John Gauthier discovered the Shaw in 2007 while fishing.