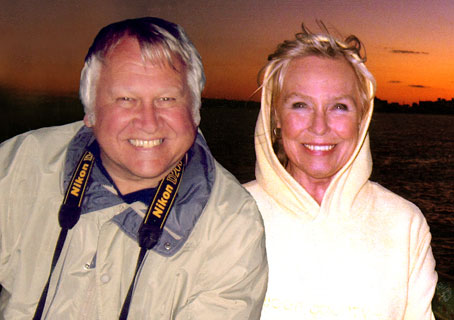 Cris Kohl and Joan Forsberg, well-known maritime historians, scuba divers, authors, lecturers, photographers, and videographers, are a husband-and-wife team who love to explore shipwrecks, particularly those in the Great Lakes.

They both have university degrees in History, and underwater archaeology certifications from Great Britain's Nautical Archaeological Society (NAS).

Cris, a prize-winning underwater photographer, is a past board member of the Ontario Underwater Council. In 2008, he received the Lifetime Achievement Award from "Our World — Underwater," and in 2013, the Save Ontario Shipwrecks Marine Heritage Award.
Joan was a three-term President of the Underwater Archaeological Society of Chicago, and was inducted into the international Women Divers Hall of Fame (WDHOF) in 2010, for which she became Chairman of the Board for three years.

The authors of 17 books and the producers of 16 documentaries and five shipwreck maps, they have both been interviewed many times about shipwrecks on radio and on television venues such as the History Channel, the Discovery Channel, CTV, CBS, and PBS.
Shipwreck Tales of Georgian Bay
Historic Georgian Bay, the very first Great Lakes waters seen by European explorers, has been called "the 6th Great Lake" due to its huge size — and it has claimed many shipwrecks, some tragic, all dramatic, during the course of its exciting maritime history, which peaked in the century from 1850 to 1950.

This presentation relates many shipwreck tales, including the story of the very first ship on Lake Huron and how it may have become a shipwreck there; the War of 1812 shipwreck that is today an exciting and unique tourist attraction; the steamer that sank in Georgian Bay in 1882, taking with it 121 of the 123 people on board, the worst maritime disaster in all of Lake Huron — with the two survivors telling their spine-tingling stories!; two ships that were permanently wrecked in the same storm near Parry Sound in 1903; the story of the recent (2017) discovery of the tragic steamer, "Jane Miller," lost with all hands in an 1881 storm in Colpoy's Bay, complete with exciting underwater images and video; plus some hints of what Georgian Bay shipwrecks will be found in the near future.

Web Site: www.seawolfcommunications.com