Terry Dwyer has been working in the Canadian recreational, commercial and scientific diving industry for the past thirty years. In 1992 he received a Rescue Commendation for an Act of Personal Bravery. In 1994 he founded the Nova Scotia Scuba Association. In 1995 his diving company was selected by Lightstorm Entertainment (James Cameron) to provide the Diving Support Services for the motion picture Titanic, parts of which were filmed in Nova Scotia. In 1997, in recognition of outstanding contributions to the principles of the sport of scuba diving in Nova Scotia, he was awarded The Sports Network (TSN) Spirit of the Sport Award. In October 2005 he was elected as a "Fellow International" member to the prestigious Explorers Club. The Explorers Club was founded in 1904 by a group of the world's leading explorers. The Explorers Club is a multidisciplinary not-for-profit professional society dedicated to the advancement of field research, scientific exploration and the ideal that it is vital to preserve the instinct to explore.
In 2005 he published his first book; Wreck Hunter – The Quest for Lost Shipwrecks.  In 2008 his book went to a second printing and he is currently working on volume two, Wreck Hunter – Tracking Treasure on Canada's East Coast, due out in 2011. He has authored and published numerous articles on scuba tourism, shipwrecks and shipwreck diving, and he is considered to be one of the foremost authorities on shipwrecks in Eastern Canada. Terry has also served as an occupational diving operations and diving equipment consultant for the RCMP, various police forces, fire departments, and many other Federal and Provincial organizations and agencies. 
In 2009 he was invited to join the Board of Advisors for Capt. Herbert Humphries company; MAREX Global (www.marexglobal.org) a worldwide Maritime Shipwreck Exploration Company.
He is currently working on several exciting new shipwreck projects, including a new TV Series in development based on his book. Today he and his wife, Suzie, operate Wreck Hunter Incorporated, a Halifax based shipwreck exploration and consulting company. They continue to organize expeditions and shipwreck projects through Eastern Canada.
The Quest For Lost Shipwrecks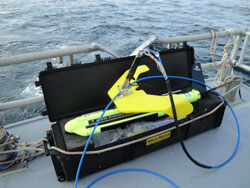 "The Quest For Lost Shipwrecks" is based on two of Terry's most popular presentations: "St. Paul Island, The Graveyard of the Gulf" and "Shipwreck Tec 101".
With a history that dates back to the 1600's, there are over 350 recorded shipwrecks on St. Paul Island (Nova Scotia). Because of its off shore location in the Gulf of St. Lawrence, St. Paul Island has remained virtually unexplored and untouched. The fact that less than 10% of these shipwrecks have been found, combined with 100 feet of visibility in the water column, provides virtually unlimited potential for discovering new shipwrecks. St. Paul Island still holds the key to much unfound treasure and yet to be discovered history.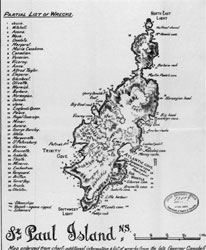 Terry Dwyer shares a wealth of knowledge and personal tips on how to research, locate and document shipwrecks. He will bring the audience up to date on the current laws and regulations that govern shipwreck salvage and treasure hunting in Nova Scotia. Details of the current types of technology used to locate, document and explore shipwrecks, special high tech equipment including tools of the trade such as side scan sonar systems, marine magnetometers and remotely operated vehicles used by modern day wreck hunters will be discussed. Terry will offer some tips on how to research, locate and document lost shipwrecks.