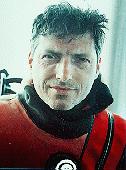 Gary started his diving career in 1970, and began avid wreck diving the following year. Shipwrecks fascinated him, deep diving lured him. By 1974 he was diving the Andrea Doria. Since then he has made more than 150 dives to this famous wreck. He was the first scuba diver to enter the First Class Dining Room, from which he recovered many examples of elegant china. He also recovered and restored hundreds of pieces of jewelry and souvenir items from the Gift Shop, located at a depth of 220 feet. By now he has made thousands of decompression dives.
During the past two decades he has been intimately involved with shipwreck research, and has compiled an extensive library of photographs, drawings, plans, and original source materials. He has conducted surveys on numerous wrecks, some of which have been drawn in the form of large-sized prints suitable for framing.
Over the years he has rescued from the ravages of the sea many thousands of artifacts, making him a leading authority in recovery techniques. He has gone to great lengths to preserve and restore these relics from the deep, and to display them to tens of thousands of interested people, divers and nondivers alike. Throughout the years, these artifacts have been exhibited at various museums and local, club oriented shows.
Gary is the author of more than two dozen books, which include novels of science fiction and adventure, and nonfiction volumes on wreck diving, and nautical and shipwreck history. He has published scores of articles in magazines and newspapers. Thousands of his photographs have appeared in books, periodicals, newspapers, advertisements, corporate reports, museum displays, postcards, film, and television. There is also another side of Gary's life: one of an outdoor adventurer. In this guise he has climbed rock and mountains, backpacked through country high and low, bivouaced
in the snow, and paddled his canoe through rapids and untamed wilderness–sometimes for weeks at a time, completely self sufficient. He has captured this challenging outdoor scenery in wonderful color.
Through slides and video, experience the Civil War ironclad Monitor as it lies on the sandy bottom, and learn about Gary's six year battle with the National Oceanic and Atmospheric Administration, and the precedent setting court decision which forced
USS Monitor: A Civil War Legacy
his combination slide and video presentation is a visual extravaganza for people of all ages, divers and armchair explorers alike. Sunk in clear Gulf Stream water off Cape Hatteras, North Carolina, the Civil War ironclad Monitor lies on a white sandy bottom in an area where the visibility often exceeds 100 feet. The wreck abounds with colorful fish and tropical marine encrustation. But what appears with such serenity is in actuality a dynamic process in motion, the forces of nature in collision, the best and the worst of man's character in opposition.
The Monitor's saga is long and ongoing. At the Battle of Hampton Roads she fought the CSS Virginia to a standstill: the first clash of ironclads, and a battle that spelled the end of wooden, sail-powered navies. Her loss in a December gale changed her from a machine of war to a monument depicting the futility of war. Now she fights her battles against the corrosive nature of the sea, and stands as an example of how freedom can be lost to bureaucracy if one refuses to fight for one's rights.
Gary's position with respect to the Monitor National Marine Sanctuary is unique. Alone and at his own expense, he waged a five-year legal battle against the National Oceanic and Atmospheric Administration, which refused American citizens the right to see the wreck site with their own eyes. His battle culminated in a widely publicized hearing in 1989 in which he emerged with a triumphant victory for divers across the nation, for NOAA was forced to concede that people have the right to look at the Monitor despite NOAA's wishes to the contrary.
He has visited the wreck site regularly since 1990, capturing the wreck on film and videotape as it disintegrates before our very eyes–as all shipwrecks do. This presentation combines the best of both media, and allows the author to examine the wreck in detail so the viewer can have a better understanding of the site and of the changes that occur on it.
Here is history at its best, and history in the making.