All the following doors prizes, were unsolicited, and are greatly appreciated.
We wish to thank all those donating for their support.
(prizes listed in alphabetical order of donators)
Pam Clarke 
(905) 894-5022 
jclarke@vaxxine.com
1-hand crafted stained glass inlaid dolphin patio stone
winner – Sam Genco Jamestown NY
Days Off  Dive Charters 
(Port Dover)
(519) 759-0316
mcl@execulink.com
www.execulink.com/~mcl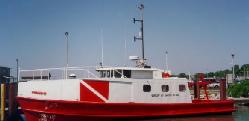 4-two tank recreational dive charters
winners
Craig Wynia  Kicthener Ont.
David Wong  Willowdale Ont
Jim Clarke  Ridgeway  Ont.
Al Veenhuizen  Mississauga Ont
Diver Magazine
(604) 274-4333
divermag@axionet.com
http://medianetcom.com/divermag/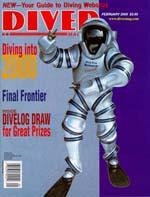 2 – One Year magazine Subscriptions
+
50 handout magazines
winners
Bob Schumacher  Media NY
Walt Cunha London Ont.
Ed's Pro Dive
19 Main Street, St. Catharines, Ontario
(905) 646-1481
edsprodive@hotmail.com
1- St. Moritz Aquamatic Dive Watch
winner
Paula Maunel  Mississauga Ont.
Joyce Hayward
(419) 483- 3074
Two copies of the Seafarers Journal of Martimime Heritage
winners
David R. Botts  Hamilton Ont.
Norman Hughs  Nepean Ont.
Lake Erie Marine Services
(Port Colborne)
(905)835-2639
cworkman@iaw.on.ca
www.iaw.on.ca/scubalakeerie
1- two tank dive charter
winner – Kieron Moore  Niagara Falls Ont.
Osprey Dive Charters
(Barcelona NY)
(716) 326-2773
osprey@cecomet.net
www.osprey-dive.com
1- five day trip dive card
winner – David Jones  Hamburg NY
1-800-OMS-9152
oms2@sprynet.com
www.omsdive.com
2 – OMS Primary Reels
winners
Brian Pallock  Whitby Ont.
Keith Chonka  East Amherst NY
Sherwood Scuba
don_benz@harsco.com
www.sherwoodscuba.com
1- Maximus Regulator
winner
Brent Laclair   Port ColborneOnt
11 – dive caps
winners
Les Pullen  Orono Ont.
Nick Vicaretti  Blasdell NY
Dnaiel Bell  Barrie  Ont.
Linda Crawford  Hagersville Ont.
Gary W Lewis  Grand Island NY
Gary Coulter  Tobermoty Ont
Catherine Clarke  Windsor Ont.
Matrin Lardner  Gasport NY
Ray Hunt  ?
Paula Huber  Weston Ont
Jian Germanakos  Richmond Hill On
St. Moritz
watches@St-Moritz.com
www.St-Moritz.com
2- Tee Shirts
winners
Judy Hingston  Welland Ont.
Seun Korkmaz Toronto Ont.
Tobermory Maritime Association
in conjunction with
Divers Den & the "Jaqueline"Dive Charter
c/o Mike McGrath (519) 596-2363
mmcgrath@interhop.net
www.diversden.com
1- single tank dive 
+ air fills for 16 divers to the Niagara II
winner 
Tyler Tinney  Orilla Ont.