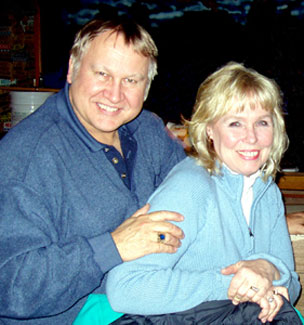 Cris Kohl and Joan Forsberg, well-known maritime historians, scuba divers, authors, lecturers, photographers, and videographers, are a Chicago-area husband-and-wife team who love to explore shipwrecks, particularly those in the Great Lakes. They both have underwater archaeology certifications from Great Britain's Nautical Archaeology Society (NAS).
Joan has a degree in History and has been the Chairman of the Shipwrecks and our Maritime Heritage Room at Chicago's Our World – Underwater Show since 1996. She is the author of the scuba celebrity cook-and-tell book, Diver's Guide to the Kitchen, and articles in magazines such as Immersed, Great Lakes Boating, and Wreck Diving (for which she works as Copy Editor). Joan appears behind the camera shooting underwater video, and in front of the camera as Cris' underwater model. In her three terms as President of the Underwater Archaeological Society of Chicago (2008, 2009, 2010), she spearheaded several significant maritime history projects, particularly the sinking of the historic ship named the Buccaneer as the newest shipwreck site off Chicago. Joan was inducted into the international Women Divers Hall of Fame in 2010.
Cris, a prize-winning underwater photographer with a Master's Degree in History, is originally from Windsor, Ontario, was co-founder of the Windsor chapter of Save Ontario Shipwrecks (1987), is a Past President of the Underwater Archaeological Society of Chicago (2004), and has written eleven books and more than 325 magazine and newsletter articles about Great Lakes shipwrecks. He has appeared on numerous television programs, including on the History Channel several times and on the Discovery Channel. He has helped locate and identify many shipwrecks. He is the 2008 recipient of the annual Our World—Underwater Outstanding Achievement Award. His most recent book is the expanded Great Lakes Diving Guide, the most comprehensive book ever published about Great Lakes shipwrecks.
Co-authors of the recent book Shipwrecks at Death's Door, co-editors of the 2010 book Our World—Underwater: The First 40 Years, and producers of several commercial DVDs about Great Lakes shipwrecks, Cris and Joan are currently working on more shipwreck book collaborations. Cris & Joan's web site is Seawolf Communications.
Exploring Canada's Great Lakes Shipwrecks!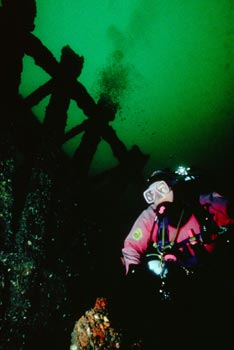 We are blessed, here in the huge Canadian province of Ontario, that we have the lion's share of the exciting, fresh waters of the Great Lakes, those unique sweetwater seas that hold the greatest variety of the best preserved shipwrecks in the world!
Take an in-depth look at several of these wrecks, beginning with each one's dramatic history, as we move westward from the St. Lawrence River, finding out about a variety of shipwrecks in Lakes Ontario, Erie, Huron, and Superior! Several shipwrecks off Kingston and in the popular underwater park at Tobermory are included, plus relatively recent discoveries such as Lake Huron's Wexford.
This presentation is an exciting, updated version of the very first presentation ever given at the very first "Shipwrecks" show in 1995, based on Cris Kohl's books, "Dive Ontario!" and "The Great Lakes Diving Guide."