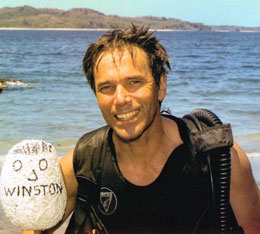 Mike has more than three decades of experience in the professional commercial dive industry and is an internationally renowned wreck diver. He began his career in 1977, concentrating on underwater construction and the offshore oil and gas industry.

After becoming a certified decompression-chamber operator, a licensed dive medic and a licensed captain, he expanded his expertise into underwater cinematography.
He has since worked on shipwreck expeditions around the world, helping make numerous discoveries that have made international headlines. An experienced operator of several different types of diving and underwater robotics systems, Mike has logged thousands of underwater hours in every imaginable dive apparatus.
He served as Dive Coordinator for the National Geographic Channel series "The Sea Hunters" and has lent his expertise to countless television programs for other broadcasters such as History Television and Discovery Channel. He plays competitive ice hockey and raises racing thoroughbreds on his farm in Port Dover, Ontario.
"Who is Mike Fletcher?"
It was impossible for Mike Fletcher to work as a professional diver  in the 80s and 90s and not know who Clive Cussler was. Every offshore drill rig, salvage tug and marine construction dive shack had stacks of dog-eared, coffee-stained copies of his books. The Dirk Pitt character that Clive created was, for Mike, the ultimate dive adventure hero, with a propensity for stopping the bad guys, saving the world, and getting the girl, all the while doing cool stuff underwater.
Then one day, as if through divine intervention, Fletcher got to do something that the fictional Pitt could never do. No, he never got to stop bad guys, save the world or get the girl, but Mike Fletcher from Port Dover, Ontario got to hang out with Clive Cussler and sail around the world, making television about "cool stuff underwater".
For over five years it was an incredible ride – from Japan to the Arctic, the Straits of Magellan to the South China Sea, forty different adventures in the four corners of  the earth, filled with challenges, new discoveries, and at times the chance to fill in missing pages from world history.
Although still great friends, sadly the "Sea Hunters" mission – to go under the Oceans, the Lakes, the Rivers and the Seas in search of true adventures with famous shipwrecks – came to an end in 2005, only to be followed by sixty more episodes of underwater documentary television for Mike and his son Warren.
Join Mike Fletcher at Shipwrecks/2012 to revisit his favorite video moments, and learn how a local guy got the chance to do what Dirk Pitt could never do.