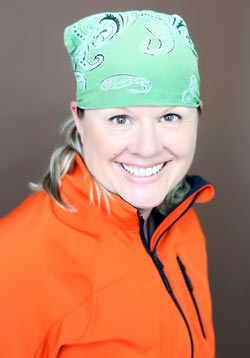 A pioneering underwater explorer and filmmaker, Jill Heinerth has dived deeper into caves than any woman in history. With a collection of magnificent images, from Antarctic iceberg caves to the Floridan Aquifer and subterranean Siberia, Jill shares a glimpse of a breathtaking world few will experience. Her accolades include being inducted to the Women Diver's Hall of Fame and the Explorer's Club as well as scores of photography and filmmaking awards. Recognized as a leading technical diver, she is one of the world's experts on rebreather technology. An engaging speaker, Jill's multimedia presentations stir audiences with life's lessons learned during expeditions above, below and inside the earth.
An award-winning filmmaker, Jill wrote, produced, and appeared in Water's Journey, the PBS documentary series that takes viewers on travels through the world's greatest water systems. Hollywood filmmakers, including Lakeshore Productions (The Cave) and James Cameron, have called on her to produce difficult underwater scenes, and international magazines and new media companies look to her to document extreme environments.
Her accolades include being named a "Living Legend" by Sport Diver Magazine, induction into the exclusive New York Explorer's Club and the inaugural class of the Women Diver's Hall of Fame, as well as scores of photography and filmmaking awards. Dozens of stories lauding Jill's career, have appeared in the New York Post, London Telegraph, Wired Magazine, Sport's Illustrated Women and most recently a 21-page photo feature in Deep, China's most prestigious outdoor adventure publication.
Jill is known as an industry expert in the use of closed-circuit rebreathers. Her multi-media blog attracts a large international audience. She is also a popular presenter at international diving events from Australia to Central America, Russia, Europe and Canada.
Jill's photography and writing have been featured in prominent magazines and major newspapers around the world. She contributed to the development of training materials for international organizations and is the author of three books on cave diving and underwater photography.
Born in Canada, Jill lives with her husband Robert in North Florida, where she starts most days with a refreshing swim in the clear water of her local spring.
For our 2012 show, Jill will be presenting on two topics.
Shooting in Challenging Environments
Jill Heinerth is an award-winning photojournalist and filmmaker. Her curiosity and skill gives us a tantalizing peek at a breathtaking world few may ever experience.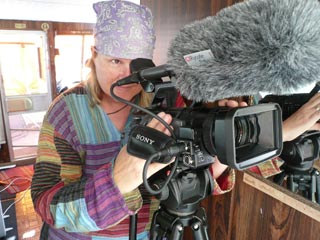 She'll offer a primer about bringing home great digital photography and videography from challenging places around the world.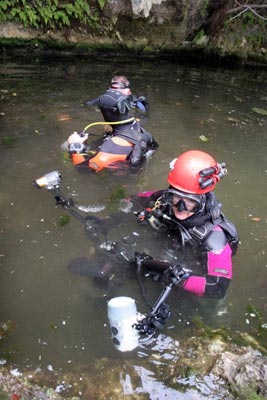 Jill will cover equipment, techniques and lighting for novice through advanced divers, giving concrete examples about how to improve your shooting capability with all levels of cameras and accessories.
Ben's Vortex
On a hot August night, Ben McDaniel attempted the adventure of a lifetime. He slipped beneath the clear waters of Vortex Spring, with one goal in mind: to make a name for himself in the extreme world of cave diving. He was never seen again.
Was it an accident?
A well planned hoax?
Or something more sinister?
This investigative documentary explores the mysterious disappearance of Ben McDaniel.
Filmmaker Jill Heinerth will share her insight into this strange disappearance and the firestorm of controversy that has followed it.