Energetic and passionate presenters, Valerie and Jack van Heest have explored and documented shipwrecks for over 20 years.
Together they serve as Directors of Michigan Shipwreck Research Associates. Valerie is a member of the Women Divers Hall of Fame, and a 2007 recipient of the Historical Society of Michigan award for excellence of achievement in the preservation and promotion of state and local history.
She has written extensively for a variety of magazines and periodicals and has been a contributor to many books, newspaper articles, and museum exhibits. She has also written and directed more than a dozen documentary films. She and Jack, who captains the search vessel and directs technical operations, are regular presenters at museums, libraries, and film festivals sharing the dramatic stories of ships gone missing on the Great Lakes. Valerie has recently published two books: "Icebound!" written for young readers about the SS Michigan, (the topic of her presentation last year), and "From the Hennepin to the Thousand Footers-The Rise of the Self-Unloader", coauthored with William Lafferty.
She Died a Hard Death- The Sinking of the HENNEPIN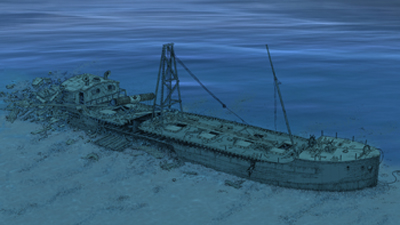 When the tugboat Lotus moved slowly up the Grand River in Ferrysburg, Michigan on the sultry evening of August 18, 1927, it was immediately apparent something was wrong.
She had left the day prior towing the barge Hennepin and was returning without it. The Hennepin's Captain Ole Hansen, who had taken refuge on the tug, shouted across to employees waiting at the dock: "We lost her boys. She died a hard death!"  79 years later the van Heests, Directors of Michigan Shipwreck Research Associates, working with David Trotter, discovered the ship that Hansen had lost in 230' of water off South Haven, Michigan.
Through research and diving this very pristine wreck, the van Heests would piece together the true account of the sinking of this ship, told through historical reenactment, and place this vessel in its proper historical context as the first self unloading steamer and one of the most significant vessels ever to sail the Great Lakes. Their work has culminated in the nomination of the Hennepin to the National Register of Historic Places.