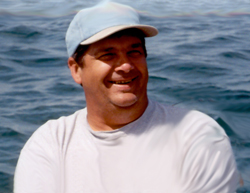 Tom is an executive at an automotive supplier company.  He possesses strong leadership qualities, organizational abilities and a deep understanding of analytical problem solving.  Tom is a lifelong resident of Ottawa County, Ohio and grew up fishing and diving in Lake Erie.  Tom began diving shipwrecks in 1965 and has been researching Great Lakes history ever since.  He holds an International certification of safe scuba diving from NASDS and is a past scuba diving instructor.  Active in the Great Lakes community, he is a member of the Association of Great Lakes Maritime History (AGLMH), Great Lakes Historical Society (GLHS) and Save Ontario Shipwrecks (SOS).  He actively participated in the Canadian Pt. Pelee Passage shipwreck survey project.  Tom is an experienced researcher, side scan sonar operator and scuba diver.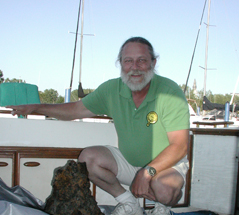 David is a senior engineer/manager for ZIN Technologies, Inc., specializing in space flight hardware design, manufacture, and testing for NASA Glenn Research Center.  He began his diving career in 1995 and currently holds dive certifications up through trimix and AIMA/NAS Level 3.  David began searching for and finding shipwrecks off his boat "Sea Dragon" in 2001 when he founded the Cleveland Underwater Explorers (CLUE).  David graduated Purdue University in 1981 with a Bachelor of Science in Nuclear Engineering.  He is presently enrolled in Flinders University's Maritime Archaeology program pursuing a Masters Degree in Maritime Archaeology and has recently received his Graduate Certificate in Maritime Archaeology.
Anthony Wayne – New Discovery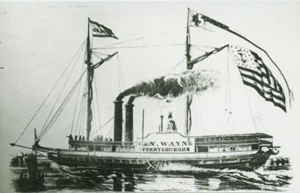 One of the most significant losses of life in early steamboat history occurred on April 28, 1850, when the starboard high pressure boilers of the sidewheel steamboat Anthony Wayne, en route from Sandusky to Cleveland and off Vermilion, exploded, killing an estimated 38 passengers and crew.  The Anthony Wayne was built in 1837 just 19 years after the construction of the very first steamboat on Lake Erie, the Walk-in-the-Water.  The Anthony Wayne is believed to be the oldest steamboat shipwreck in Lake Erie.
Tom Kowalczk of Cleveland Underwater Explorers (CLUE) located the remains of the Anthony Wayne in 50 feet of water using sidescan sonar in September, 2006.  Due to unfavorable late season conditions, CLUE divers had to wait until May 20, 2007 to make the first dive. 
The wreck consists of two discernible major portions: the midship section that includes both paddlewheels, the Pitman arm and other machinery parts, and the bow section that includes the stem, knightheads, railing and anchors.  
Historical research conducted by Tom Kowalczk and Jim Paskert determined that the Anthony Wayne at the time of loss had a beam of 27 feet, a sidewheel diameter of 25 feet and was equipped with a horizontal high pressure steam engine.  A pre-disturbance archeological survey has confirmed all of these features, although a significant portion of the engine is completely buried in the silt.  The wreck of the Anthony Wayne was previously located by divers in the early 1990's.  They unsuccessfully petitioned the State of Ohio for salvage rights most likely stimulated by the gold rumored to be aboard.