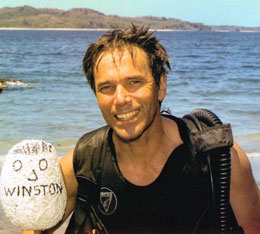 Beginning in 1977 Mike's day started like everyone else's, in the sun, wind and noise of the surface, then traveled to the underworld, into a perpetual gloom beneath Lake Erie. Working as a diver in marine construction, Mike did his time on the bottom in solitude, drilling rock, sand-bagging forms and pouring concrete.
As new skills were learned, calls came to work in ship salvage, underwater ship repair, and diving in the off-shore oil and gas production industry. Through live camera and audio mounted in his dive helmet Mike became a "go to" guy in submerged inspection …. the hands and eyes of the engineers on the surface who needed to see everything, from sunken ships, to bridge foundations, to flooded tunnels. For over 20 years life was good; it looked like Mike had found his underwater plateau.
But then one day Mike found a shipwreck and his whole world changed. There was controversy, lawsuits, even mild celebrity. In time History Television and National Geographic came knocking, looking for a diver to support famed author Clive Cussler in his new documentary series ''The Sea Hunters". Mike traveled the world, found shipwrecks, and unexpectedly became the writer / director of that hugely successful TV series.
Mike, along with his son Warren Fletcher, were eventually given their own documentary  series, " The Dive Detectives". Together they have been at the center of creating over one hundred episodes of underwater discovery and exploration 
A Promise  Made ….. Dennis  Hale and his ship The Daniel J. Morrell 
This November marks the 50th anniversary of the sinking of the Great Lakes freighter Daniel J. Morrell; 50 years since crew member Dennis Hale endured 38 punishing hours to become that wreck's lone survivor. Several years ago while investigating the Morrell story as part of an episode of the TV series, Dive Detectives, host Mike Fletcher learned something about the sinking that kept calling him back.
Back and down into the solitude of her engine room, where with camera in hand Mike captured evidence of something that troubled him. On sharing this knowledge with Dennis, the two made a pact to return to the wreck to continue the investigation and to make good on a promise made. But sadly, Dennis died late this past summer. This is a film about their pact and the promise made.