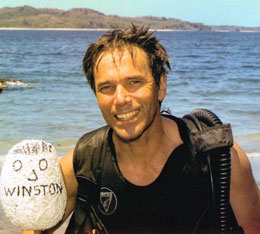 Mike has more than three decades of experience in the professional commercial dive industry and is an internationally renowned wreck diver. He began his career in 1977, concentrating on underwater construction and the offshore oil and gas industry.

After becoming a certified decompression-chamber operator, a licensed dive medic and a licensed captain, he expanded his expertise into underwater cinematography.
He has since worked on shipwreck expeditions around the world, helping make numerous discoveries that have made international headlines. An experienced operator of several different types of diving and underwater robotics systems, Mike has logged thousands of underwater hours in every imaginable dive apparatus.
He served as Dive Coordinator for the National Geographic Channel series "The Sea Hunters" and has lent his expertise to countless television programs for other broadcasters such as History Television and Discovery Channel. He plays competitive ice hockey and raises racing thoroughbreds on his farm in Port Dover, Ontario.
Mike was the keynote speaker with his Atlantic presentation at our first Shipwrecks Symposium in 1995. At the time, he had no idea of the impact his discovery of a shipwreck would have on shipwrecks and diving in Ontario. He presented again in 1998 and 2012. We welcome him back once again for a new updated version of his Atlantic presentation.
The ShipwrecK That Changed My Life
(and if you dive in Ontario, Yours Too)
When launched in 1848, the Steam Ship Atlantic was state of the art.  At 267 x 33′ this side paddle wheeler boasted 85 private staterooms on the top deck adorned with gold gilding, tapestries and carved rosewood furnishings. Semi-private cabins were on the tween deck and dormitory style below deck. The upper deck passengers dined on the finest cuisine under the shimmer of chandeliers in the main salon while being entertained by the ship's orchestra.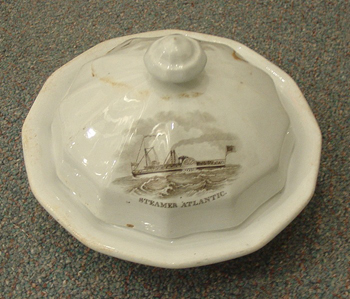 Sailing under the Michigan Central Railway flag, she filled the gap between the Erie Canal at Buffalo and the rail head at Detroit for immigrants moving west. When she sank due to collision on August 19, 1852 she lost about 200 of her 450 passengers and in many cases everything they owned, as well as the American Express company's safe. There were several documented salvage attempts over the next 50 years, with the American Express safe being recovered in 1856. 

She lay undisturbed, location forgotten until rediscovered by Mike Fletcher Labour Day weekend 1984. The find was reported to the Federal Government. Vulnerable, easily preserved artifacts were removed and catalogued by a Federal  agent and sent to Ottawa. Discussions were held about a possible addition and Atlantic display at the Port Dover Museum. 

In June 1991 Mar-Dive, a California treasure hunting and salvage company, made international news headlines when they announced that they had discovered the Lake Erie treasure ship Atlantic with 60 million dollars of valuables on board. News footage showed divers removing bags of artifacts, later put on display with an announcement that they would be sold to investors or private collectors. They claimed ownership with a document issued by a California Justice of the Peace and had the ship arrested by a Pennsylvania constable.
With the Canadian Government showing little interest, Mike had his lawyers counter Mar-Dive's claim with one of their own.
The Province of Ontario added to the legal mix by adding a third claim. As there was an active warrant for the arrest of the Mar-Dive officials in Ontario, the discovery portion of the trial was held in a Buffalo courthouse. This was followed by a six week trial at the Ontario Superior Court in Toronto.

The outcome of this 1995 trial laid the  groundwork for the laws and regulations we have covering diving on shipwrecks in Ontario today.
Mike's original Atlantic presentation at our first show was given before the trial. Join us for this updated version.