Marc-André Bernier is the Chief of the Parks Canada's Underwater Archaeology Service since 2008. Born in Kapuskasing Ontario, he completed a B.A. in Classical Studies and an M.A. in Greek Archaeology, both at the University of Ottawa.
With the Underwater Archaeology Service since 1990, he has worked on and directed many shipwreck projects in Canada and abroad, including France, the United States, Mexico and Argentina. He is presently a Board Member of the Advisory Council for Underwater Archaeology (ACUA) and a member of the International Committee on the Underwater Cultural Heritage (ICUCH).
Fifty Years of Underwater Archaeology at Parks Canada
In 1964, Parks Canada's archaeology program made the decision to immerse itself in the then nascent discipline of underwater archaeology. Over the last 50 years, what is now the Underwater Archaeology Service (UAS) of Parks Canada has evolved with the organization's mandate, always trying to play a leadership role in the study and protection of Canada's underwater heritage.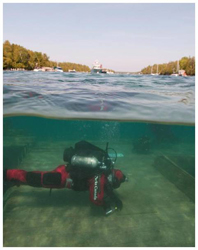 From the 16th-century Basque whalers in Labrador to an American World War II plane in the Gulf of St. Lawrence, from the pre-contact sites in Gwaii Haanas National Park in British Columbia to the 1758 French wrecks in Louisbourg, Nova Scotia, from Fathom Five National Marine Park to Aulavik National Park where lies HMS Investigator abandoned in the ice in 1853, the last five decades have seen Parks Canada's underwater archaeology team work in every part of the country on sites covering most of Canada's history.
This presentation will present a history of the UAS, show a panorama of the incredible submerged sites studied by the UAS, highlight some of the technological evolutions in archaeology below water over the past 50 years and discuss where the current mandate is now taking underwater archaeology at Parks Canada.