Joyce Hayward began diving in 1982.  During her diving career she has served as the Great Lakes Director of the Atlantic Alliance for Maritime Heritage, and the Vice President of the Association for Great Lakes Maritime History, where she served as chair of the Divers Coordination Committee.  She is the President of the Ohio Chapter of Save Ontario Shipwrecks.  Joyce has held various offices with the Ohio Council of Skin and Scuba Divers, where she is presently the Secretary and serves as Chair of the Legislative Action Committee.  Joyce earned "Diver of the Year" upon three occasions for the state of Ohio.  She also was appointed by the Governor of Ohio to serve on the Maritime Advisory Council, a management advisory committee for the shipwrecks of Lake Erie.  She has received the Order of Excellence from AMHC, the Distinguished Service Award from the Ohio Council of Skin and Scuba Divers and the Director's Achievement Award from Save Ontario Shipwrecks and recently was inducted into the Women Divers' Hall of Fame. Joyce is an Assistant Instructor, Master Diver, Technical and Tri-mix diver and member of IANTD.  She has been involved in deep, over 160 ft., diving since 1988.  Joyce has organized and helped to instruct Archaeological training workshops in Ohio, Michigan, Illinois,  and Indiana.  Joyce has been featured in several videos and television documentaries including Michigan in Depth, and has been featured in Voices of the Lakes and The Best Adventure Yet.  Her photography has appeared in various publications and she has given presentations all over the United States and Canada.  She is often referred to as "The Lady of the Lakes."
David Mekker, a long-standing member of the Niagara Divers' Association and indisputably its most avid diver, is Chair of Shipwrecks/2006. He has held that position for the last nine years, and has been instrumental in bringing what began as a small show to the successful world-class event it is today.
Dave was certified in 1989, trained in Nitrox and Cave diving in 1992, and has since moved into deep and Trimix diving, with over 1,200 logged dives. His enthusiasm and "drive to dive" led him into underwater photography in 1992. His photography has centred around Great Lakes shipwrecks, resulting in awards at events such as the Ford Seahorses Great Lakes Film Festival. In 2000, Dave discovered a new passion for underwater videography – this will be his fourth presentation at Shipwrecks.
Joyce & Dave will be co-presenting two presentations at this year's event.
Shipwrecks Below!
Shipwrecks Below!  takes the viewer on a trip from the 1000 Islands east of Lake Ontario,  to the North Shore of Lake Superior. 
Along the way, we will view fascinating shipwrecks from recreational depths to technical mixed gas dives beyond 200 feet, learn about the ships' stories, and become acquainted with interesting things to do topside.
Diving Alpena's Lost Empire Ship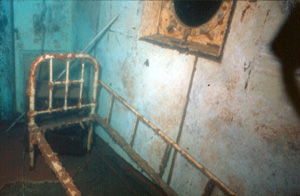 Following World War II, vessels of war became ships of commerce.  The British Empire Falstaff  ended her career as the Monrovia 26 miles from Alpena, Michigan several hours after a collision with the Royalton in a dense fog. 
The 447 foot ship now rests at 135 and offers fascinating diving opportunities for both recreational and technical divers.  The hospital room, machine shop, galley and other small rooms can be viewed easily and openly in less than 100 feet.  More experienced technical divers will enjoy the spectacular engine room. 
This program will feature the entire ship from bow to stern, enticing divers to visit a site that can be viewed again and again with something new to see on every dive.