Mike & Georgann Wachter have been diving around the world since the early 1970's. Their books, Erie Wrecks East and Erie Wrecks West document over 200 Lake Erie shipwrecks and are considered "the bible" for Lake Erie Shipwreck enthusiasts.They discovered diving while snorkeling in the Mediterranean Sea in 1972 during a backpacking trip through Europe. Since that time, they have visited many sites in the Caribbean, Atlantic and Pacific. However, nowhere else in the world have they discovered the kind of pristine and perfectly preserved shipwrecks that lie in the fresh waters of the Great Lakes. During the past two seasons, the Wachters located eight new shipwrecks and were instrumental in placing permanent moorings on six wrecks in the Ohio waters of Lake Erie.
Living near Lake Erie led to the fascination with Lake Erie shipwrecks that drove the extensive research effort that is exhibited in their Erie Wrecks books. As their passion grew, what was once a part-time hobby became a full time investigation of the myths and realities behind the thousands of shipwrecks in the Great Lakes. Mike and Georgann have published four books, numerous magazine articles, and are actively involved in managing The Maritime Archeological Survey Team (MAST), a non-profit corporation dedicated to preserving Great Lakes maritime history "one shipwreck at a time". They serve actively in the Lake Erie Wreck Divers (LEWD) and the Lakewood Aqua Masters dive clubs. They are pleased to also be members of Bay Area Diver (BAD), making them both BAD and LEWD.
Georgann is an accomplished researcher who is sought after as a speaker on sport diving, Great Lakes shipwrecks, and aquatic life. She has had the opportunity to have her marine artwork exhibited around the Great Lakes.  Mike makes his living as a management consultant and public speaker. For both Georgann and Mike, their first love is shipwreck diving.  The collaboration of Georgann's love of research and Mike's love of story telling provides the fuel for the Erie Wrecks series and yes, that means Erie Wrecks, Volume III will soon be available!
Lake Erie's Perfect Storm
They called it Black Friday. In a single night, four, significantly different major vessels were lost in the convergence of three fronts that created Lake Erie's perfect storm.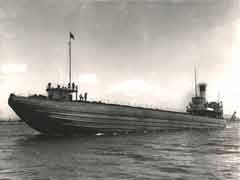 Join us on a fascinating trip from the origins of the October 20, 1916 storm through the loss of the schooner/barge D. L. Filer, the lumber hooker Marshal Butters, the Whaleback Steamer James B. Colgate, and the steel propeller Merida.  With the captains being the sole survivors on two of these boats, it proved to be the most momentous storm in Lake Erie history.