Important Notice
Due to a death in the family, Jim Kennard will be unable to present at this year's show.
Our most sincere condolences go out to his entire family during this difficult time.
Jim Kennard has been diving and exploring the lakes of the northeast since 1970. He's found more than 200 shipwrecks in the Great Lakes, Lake Champlain, New York Finger Lakes and in the Mississippi and Ohio Rivers. Utilizing his background as an electrical engineer, he built a side scan sonar system that located many of these shipwrecks. Significant discoveries include the two oldest shipwrecks discovered in the Great Lakes, the 1780 British warship HMS Ontario and the sloop Washington lost in 1803. In 1983 he found a unique horse powered ferryboat in Lake Champlain. All of these discoveries received worldwide attention in the news media. Discoveries made by Jim and his shipwreck teams have appeared in a number of publications including National Geographic, Sea Technology, Inland Seas, Wreck Diving, Skin Diver, and several Rochester, NY publications. He's appeared on Discovery Channel, CBC, BBC, and FOX News.
In 2013 he was selected a Fellow member of The Explorers Club. Jim received the Joyce S. Hayward Award for Historic Interpretation from the Association for Great Lakes Maritime History in 2015 for documenting the stories of Great Lakes shipwreck discoveries on his website www.shipwreckworld.com.
In addition to searching for elusive shipwrecks Jim is an avid hiker and amateur radio operator.  He graduated from Clarkson University with a BS in electrical engineering in 1966.  A native of Peekskill he lives in Fairport, NY.
A Journey of Discovery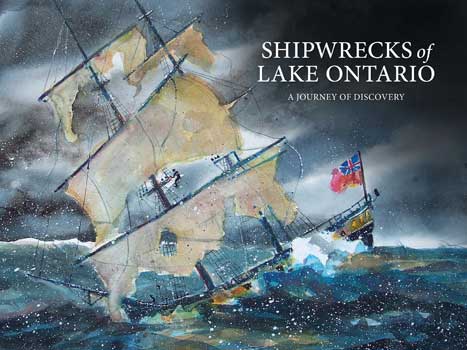 The presentation highlights several unique and exciting discoveries over the past fifty years as related by Jim Kennard in his new book Shipwrecks of Lake Ontario – A Journey of Discovery, published by The National Museum of the Great Lakes. These include:
Sloop Washington: A Canadian ship built in 1798 that foundered in a November storm in 1803. The Washington is the 2nd oldest shipwreck discovered in the Great Lakes.
HMS Ontario: A British warship built in 1780 and sunk October 31st in a storm the same year. It's the oldest shipwreck discovered in the Great Lakes. Some never before seen video will be shown of the wreck with images from an upcoming National Geographic series Drain the Ocean segment on Revolutionary War shipwrecks.
Schooner St. Peter: Located in 1970, the St Peter was the first fully intact shipwreck discovered off the southern shore of Lake Ontario. It has been the most popular shipwreck for recreational divers in this area.
Dagger-board schooners: Discoveries of two very rare dagger-board schooners. These ships only existed for a very short period of time in the early 1800's.
USAF C45 Aircraft: The USAF C45 aircraft was abandoned by the crew after one of the engines failed while enroute to Rome NY. The aircraft continued flying for another hour narrowly missing a populated area in Oswego and crashing into Lake Ontario.
Rare Sailing Craft: The scow sloop Black Duck, a very rare vessel, operated on the Great Lakes. According to treasure books the Black Duck carried a large cargo of whiskey.