Garry Kozak grew up in the Great Lakes and began diving in 1962. Shipwrecks became a major fascination and the challenge to dive wrecks that had not been previously located became his main diving interest. In the late 1960's , he left the Great Lakes to pursue a career in the field of commercial diving. This work took him off the coast of Newfoundland providing diving support on oil drilling rigs, to the Gulf of Mexico providing diving support to the offshore oil industry, and salvage operations in the Great Lakes.
In 1975, he returned to the Great Lakes and formed a company, Innerseas Inc., whose purpose was to locate and salvage shipwrecks and cargoes in the Great Lakes. The first ship selected was a ghost ship, the Dean Richmond. The Dean was a steamer that disappeared on the waters of Lake Erie in October of 1893, carrying a cargo of lead and zinc ingots. On July 13, 1983, the Dean Richmond was found, solving a 90 year old mystery.
For the past 24 years, Garry has been employed by Klein Associates of  Salem, N.H., the technology leader in Side Scan Sonar systems. He is a  recognized expert in undersea search operations and travels the world providing consulting and training expertise to Navies and companies who  have a critical underwater search need. His work has taken him to the Canadian Arctic with Dr. Joe MacInnis to locate the H.M.S. Breadalbane, off the coast of England with author Clive Cussler in search of John Paul  Jones' vessel, the Bon Homme Richard, and on countless other treasure and historic shipwreck searches.
The Discovery of the HMS Breadalbane, Lost In The Arctic 1853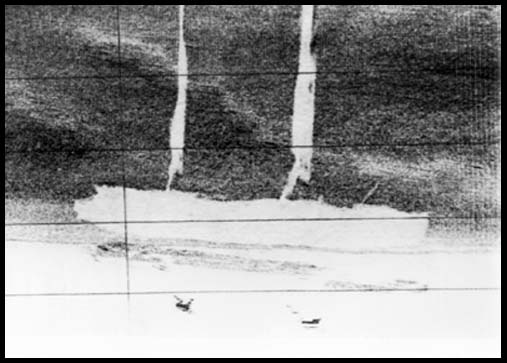 Sir John Franklin in 1845, sailed for the Canadian Arctic in search of the Northwest Passage.  Franklin and his two ships the Erebus and Terror disappeared, and the longest search ever in naval history, spanning 14 years, began.
The HMS Breadalbane, a three masted barque, was one of the support ships participating in the search for the Franklin expedition. On 
August 21,  1853, the Breadalbane was trapped in a death grip by ice, crushing and sinking her. The Breadalbane laid undisturbed in it's frigid Arctic grave for 126 years. 
In 1976 the search for the resting place of the  Breadalbane began under the direction of Dr. Joe MacInnis and Emory Kristof of National Geographic Magazine.  This presentation chronicles the search, disappointments and finally, the discovery of the world's most northern shipwreck.