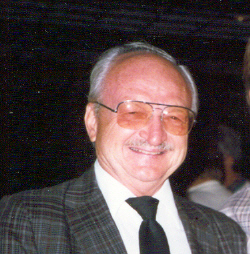 Frank Mays was a 26 year old sailor aboard the Great Lakes freighter Carl D. Bradley when it broke apart and sank on November 18, 1958. One of only two survivors, Frank's personal account of the tragedy and its aftermath appears in the book "If We Make It 'til Daylight". Frank retired at age 58 in 1990.
In August of 1995 he had the opportunity to dive the Bradley in a submarine, but the expedition was hampered with poor visibility. Returning in 1997, an ROV was used to verify that the ship was indeed in two separate pieces.
In 1999, finding retirement a little boring, Frank joined the Peace Corps and in recent years has traveled the world.
If We Make It 'til Daylight
Frank Mays is the only living survivor from the Carl D. Bradley, which sank 45 years ago.  He will share his tale of how he struggled to survive in one of Lake Michigan's worst November storms. 
Clinging to a raft through hurricane force winds and 30 foot waves, he waited 14 hours to be rescued.  Of his crew of 35, only he and Elmer Fleming survived.  Frank plans to reveal some details from his new book "If We Make It 'til Daylight" that few people have ever heard.