David Mekker, a long-standing member of the Niagara Divers' Association and indisputably its most avid diver, is Chair of Shipwrecks/2001. He has held that position for the last five years, and has been instrumental in bringing what began as a small show to the successful world-class event it is today.
Dave was certified in 1989, trained in Nitrox and Cave diving in 1992, and has since moved into deep and Trimix diving, with over 1,000 logged dives.  His enthusiasm and "drive to dive" led him into underwater photography in 1992.  His photography has centred around Great Lakes shipwrecks, resulting in awards at events such as the Ford Seahorses Great Lakes Film Festival.  In 2000, Dave discovered a new passion for underwater videography – this will be his first presentation at Shipwrecks.
Rick Neilson was certified in 1971. For three years starting in 1980 he was part owner and operator of a dive-charter boat in Kingston. Wanting to know more about the wrecks, Rick began to do a little research and quickly realized that there were others out there still to be found. In 1980 Rick was encouraged by finding the Munson and the graveyard wreck known as the Mapleglen, amongst others. 1980 was also the year that Preserve Our Wrecks was formed. Rick was one of the original
members, and is still actively involved, for the most part helping to place mooring blocks at the various wreck sites.
Rick found the Davie in 1983, but in order to protect it, the location was kept a secret, and it was rarely visited. One of the 
other, more widely known wrecks Rick discovered was the paddle-wheel steamer Cornwall, located in 1989 after eight years of searching.  Mr. Neilson has had marine-related articles published in Diver Magazine, Freshwater, and Historic Kingston. 
Kingston's Newest – The George T. Davie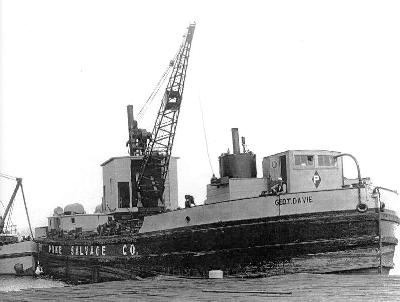 Built in 1898 at St. Joseph de Levis, Quebec by the Davie Shipbuilding Company, her dimensions were 177.5 feet long by 35 feet wide, with a depth of hold of 12.5 feet, and a registered tonnage of 680.
For the most part she had an uneventful career, usually serving in the grain and coal trade on Lake Ontario and the St. Lawrence River. While owned by the Montreal Transportation Company she sank in the St. Lawrence near Alexandria Bay in 1911, but was raised and rebuilt. In 1926 she was overhauled at Kingston.
By 1931 she was employed by the Pyke Wrecking and Salvage Company in the coal carrying trade and occasionally as a salvage lighter. On the morning of 18th of April, 1945, after being loaded with 1148 tons of coal, she departed Oswego harbour in tow of the tug Salvage Prince and headed for Kingston. After passing the Main Ducks she began to leak and finally rolled over and sank. Her four man crew was picked up by the tug.