David Gilchrist has been diving since 1970. He is a PADI Instructor and a member of the Niagara Diver's Association (NDA). He has been a presenter at past SHIPWRECKS Symposiums, UNDERWATER CANADA and GREAT LAKES UNDERWATER. David has been our Master of Ceremonies for the last five years. He is an avid underwater photographer.
A former member of the Archaeological Conservation Program of S-W Ontario, David has been an active member of the Ontario Marine Heritage Committee (OMHC) and is a former Chairperson of this group. Since his involvement in Marine Heritage studies, he has participated in a number of projects – including the Annie Falconer Survey (POW), the Rudder Survey of Great Lakes Sailing Ships, the Investigations of the Nimrod, the Port Stanley Wreck, the Lion's Head Wreck, the Navy Hall Projects, the C. B. Benson Survey (NDA), and the Submerged Prehistoric Shorelines Survey of Georgian Bay. Most recently, he participated in the Investigation of the Port Dalhousie Wreck in Lake Ontario.
He is a retired teacher for the District School Board of Niagara and resides in Niagara-on-the-Lake.  Dave is back again, this year as a presenter.
Ontario's Popular Paddlewheel Shipwrecks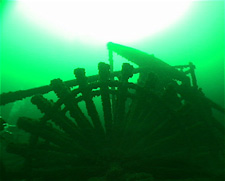 The view of a set of huge paddlewheels, rising from the lake bottom, is an awe – inspiring sight for divers. In this presentation we will look at three popular wrecks accessible to recreational divers.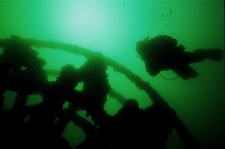 The "Comet' and the 'Cornwall' both located at the eastern end of Lake Ontario near Kingston, Ontario and the 'Rothesay' in the St. Lawrence near Prescott, Ontario. We will examine the history of these three vessels, the cause of their sinking, still images of each wreck and conclude with a short video dive on each wreck