Cris Kohl and Joan Forsberg, well-known maritime historians, authors, and speakers, as well as underwater explorers, photographers, and videographers, are a husband-and-wife team who love to examine shipwrecks, particularly those in the Great Lakes. Starting with a double major in French and Russian for a diplomatic career, Joan switched to completing a degree in History. Cris has degrees in English and Education, and a Master of Arts degree in History. Both have underwater archaeology certifications from Great Britain's Nautical Archaeology Society (NAS). Their maritime history archives are one of the largest privately-held collections in the Great Lakes.
Joan, from Chicago, has been the Chairman of the Shipwrecks and Underwater Archaeology Room at Chicago's annual "Our World — Underwater" Show since 1996. She is the author of the scuba celebrity cook-and-tell book, Diver's Guide to the Kitchen, and articles in magazines such as Immersed, Great Lakes Boating, and Wreck Diving Magazine, for which she became the Copy Editor in 2006, and in 2018 became Copy Editor for Journal of Diving History. Joan appears behind the camera shooting underwater video, and in front of the camera as Cris' underwater model. She served three terms as President of the Underwater Archaeological Society of Chicago (2008, 2009, 2010), and is the recipient of the 2011 UASC Award "for many years of leadership and dedication." Joan is a member of the international Women Divers Hall of Fame, has served as a Trustee of WDHOF for several years, and was a three-term WDHOF Chairman of the Board in 2014-2017.
Cris, described in 2002 by California's Skin Diver Magazine as being "widely recognized as the world's preeminent Great Lakes wreck guru," is a prize-winning underwater photographer from Windsor, Ontario. He began writing about Great Lakes shipwrecks in 1982, with seventeen books and 300+ magazine and newsletter articles published since then, including several dozen articles in Canada's DIVER Magazine, and in every issue of the international Wreck Diving Magazine since it began in 2003, including writing the "From the Debris Field…" column that he started in 2017. He has helped locate and identify several Great Lakes shipwrecks. He served on the Executive Board of the Ontario Underwater Council from 1988 to 1997, is a Past President of the Underwater Archaeological Society of Chicago (2004), is the 2008 recipient of the annual "Our World — Underwater" Outstanding Achievement Award, and in 2013, he received the Save Ontario Shipwrecks Marine Heritage Award "for his extensive body of work contributing to widespread appreciation of Ontario's maritime heritage." His expanded edition of The Great Lakes Diving Guide is the most comprehensive book ever published about Great Lakes shipwrecks. Both Cris and Joan have appeared on numerous television programs, including on the History Channel, Discovery Channel, CBS, and Chicago's WTTW, and their underwater video has been broadcast on PBS and Canada's CTV network. They wrote the book detailing the first 40 years of Chicago's annual "Our World — Underwater" Scuba Show. Co-authors of the recent books, The Wreck of the GRIFFON, The Greatest Mystery of the Great Lakes, Great Lakes Shipwrecks, Recent Discoveries and Updates, and Canada's 150 Most Famous Great Lakes Shipwrecks, and producers of a variety of Great Lakes shipwreck maps, shipwreck postcards, and many maritime history documentaries, Cris and Joan look forward to their next big adventure.
Shipwrecks off Whitefish Point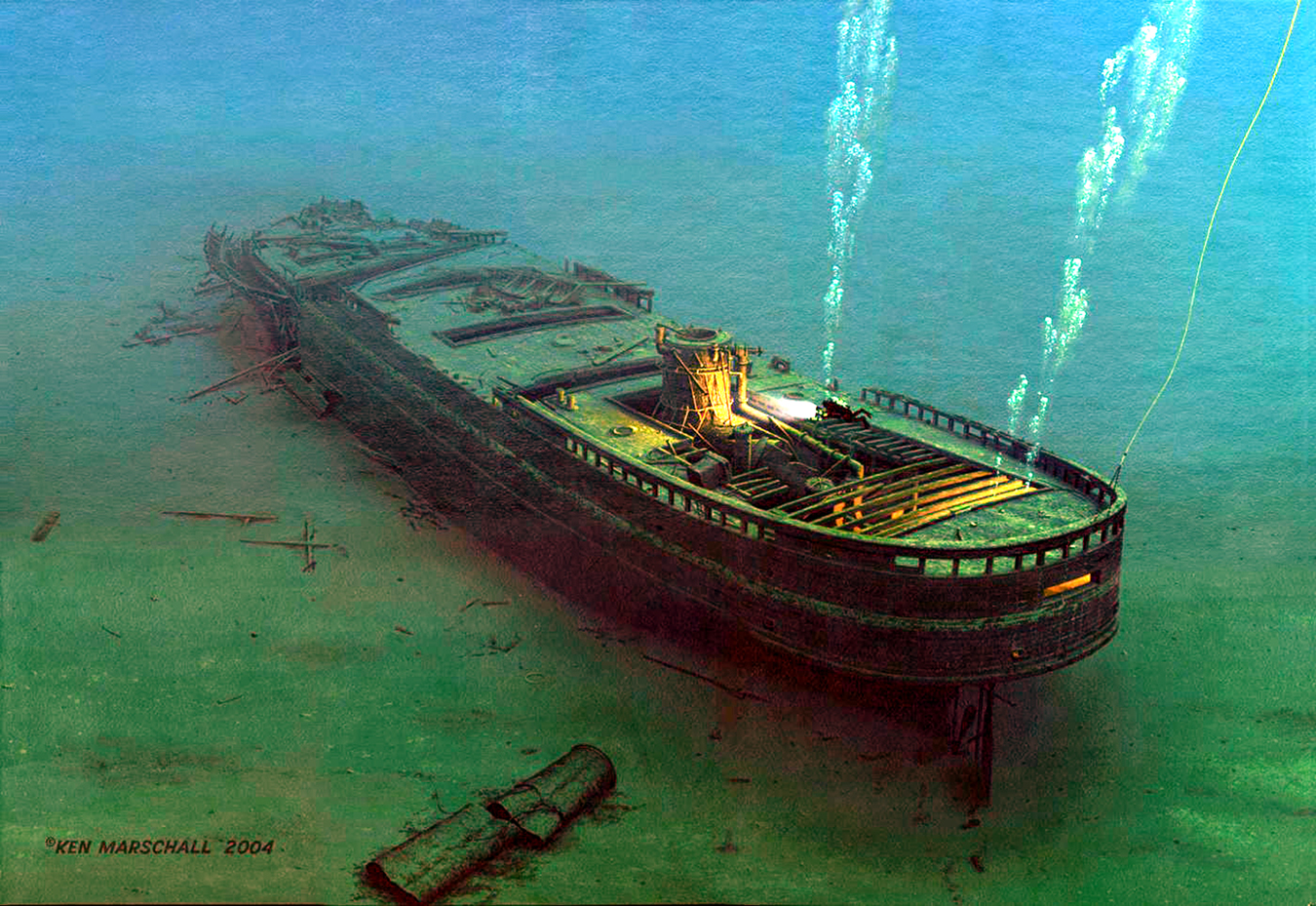 Whitefish Point, on the southeastern edge of Lake Superior, is notorious as the nearest point of land to the world-famous wreck of the freighter named the Edmund Fitzgerald. However, that part of the lake has also been the site of numerous other dramatic, sometimes tragic, shipwrecks, such as the steamship Panther, sunk in a 1916 collision, its cargo of grain still readily identified by divers today; the well-preserved, deep wreck of the steamer Samuel Mather in 178 feet of water; the moderately deep, yet popular with divers, steamer Vienna, with its many interesting features; the wreck of the uniquely-designed whaleback steamer, Sagamore, sunk in a collision in 1901 with three lives lost; an early steamship, the Indiana, lost in 1858 with an iron ore cargo, and which attracted serious attention from the Smithsonian Institute in Washington, DC after its 1972 discovery; the twin-arched steamer, Comet, sunk in an 1875 collision in 230 feet of water, and which we will visit via a ROV (remote operated vehicle) from the Whitefish Point Shipwreck Museum's research vessel; and the steamer Myron, which disappeared in a violent 1919 storm with only one surprising survivor — the captain who had intended to go down with his ship! These dramatic tales, and several others, are told in this presentation, combining historical research, interviews, archival images, and exciting underwater photos and video.