With a passion for creative arts of all kinds and a love for shipwreck diving, Valerie Olson van Heest is recognized for her detailed shipwreck site drawings, informative articles, and exciting documentary films which have contributed to the wealth of Great Lakes maritime knowledge.
A member of the Women Divers Hall of Fame, Valerie's 30 year fascination with maritime history led her to co-found three exceptional non-profit organizations, the Underwater Archaeological Society of Chicago, the Southwest Michigan Underwater Preserve and Michigan Shipwreck Research Associates, for which she serves as a Board Director with her husband Jack van Heest, a fellow veteran diver and engineer who serves as technical director for the group. 
Together, they have spearheaded MSRA's shipwreck search program which has resulted in many new Lake Michigan discoveries, valuable as historic resources and exciting dive sites, including the S.S. Michigan, Hennepin, H.C. Akeley and Ann Arbor No 5. MSRA is currently working with Clive Cussler's NUMA team in search of Northwest Flight 2501, a DC-4 that crashed into Lake Michigan in 1950.
Icebound Found! The Ordeal of the S.S. Michigan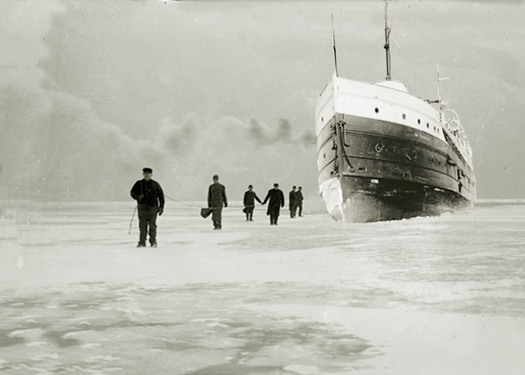 "Difficulties are just things to overcome after all." This quote, made famous by Captain Ernest Shackleton when he and his crew of 27 returned from Antarctica safely six months after his ship Endurance sank, could certainly have been the sentiment of Captain Prindeville as a similar drama played out on ice-encrusted Lake Michigan. In 1885 Prindeville and his 29-man crew on the S.S. Michigan became icebound off West Michigan during one of the worst winter storms in history. After 40 days their ship was crushed by the ice and sank, forcing them onto the ice-covered lake. With stamina and perseverance all 30 people made it safely to shore in this local tale of endurance!  It would also take endurance for the members of Michigan Shipwreck Research Associates to search for the sunken remains of this 200-foot steamer.  Working with noted shipwreck explorer, David Trotter, the team persisted over three years and 50 square miles to finally locate the wreck in deep water off Holland, Michigan. 

The search grid was determined after MSRA team members researched the story of the Michigan's loss and produced a video documentary in 2004. The search was conducted between June 1 and June 12, 2005, with the discovery made on Saturday, June 11.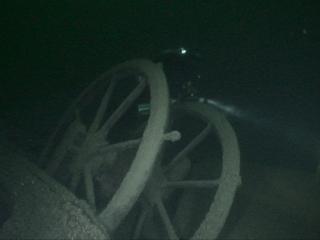 It is evident that no other person or group has ever dived this shipwreck, since divers in years past would undoubtedly have removed some of the artifacts that lie scattered on her deck. Today's divers are prone to leave such artifacts in place. Plus, state laws make retrieval of artifacts a felony.  The steel hull of the S. S. Michigan lies upright and intact, with her cabins and superstructure largely collapsed. The double ship's wheel, two anchors and ship's capstan are all easily accessed by technical divers. The capstan –once scraped clean of silt and zebra mussels by divers — revealed the words, "S. S. Michigan" and "Wyandotte, Michigan", her port of origin. 
Built as a sister ship to the S. S Wisconsin by the Detroit Dry Dock Company at Wyandotte, Michigan for the Goodrich Transportation Company, the S. S. Michigan was a sturdy iron-hulled passenger steamer. Goodrich had ordered three ships built in 1881 — the two propellers and a side-wheeler named the S. S. City of Milwaukee. She was powered by an F & AC compound engine with 27″ and 44″ cylinders and a 40 inch stroke. She had a 10 foot diameter, 18 foot long boiler built by De Soto & Hutton of Detroit. She was 203.9 feet long, 35.1 feet wide and had a draft of 11.7 feet. She was rated at 1,183 tons gross and 1,024 tons net. 
The Michigan had five water-tight compartments and a double hull with three feet of space between the two hulls. She was launched August 20, 1881 in Detroit and taken to Milwaukee for fitting out. Her cabins were said to be the finest on the lakes and decorated without regard to cost, including oil paintings and the finest carpets and furniture.  The cabins, accommodating 123 passengers, extended the length of the vessel and were more spacious than usual. They were heated by steam throughout.  The three ships operated successfully for the Goodrich Line for two years, but were then sold on May 1, 1883, to the Detroit, Grand Haven and Milwaukee railroad company.