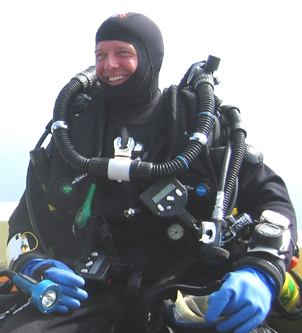 Tyler Bradford is a NAUI and TDI technical instructor as well as a PADI instructor. Over the past six years he has dedicated much of his time to teaching technical diving and leading expeditions to the Empress of Ireland.
Having logged more than 200 dives on the Empress, he's continuing this passion in 2005 with eight trips scheduled to her. He worked with Kevin McMurray when he was researching and diving the wreck in preparation for his book "Dark Descent". Tyler, together with Dany St-Cyr and Gary Kulisek, also created three diving courses specific to the Empress of Ireland in an effort to appease the Quebec government who were lobbying to close the site to divers.
Empress Of Ireland – Past, Present and Future
On May 28, 1914, the Empress of Ireland set sail from Quebec City on her 96th crossing of the Atlantic, bound for Liverpool, England with a full crew and passengers who were anticipating another uneventful crossing.  A few short hours later, early in the morning, the Empress was to have her fate sealed when the bow of the Storstad plunged deeply into her starboard side. In just 14 minutes the Empress was dispatched to the seabed, leaving hundreds fighting for their lives in the freezing waters of the Gulf of St. Lawrence.
With more dead passengers than the Titanic, how is it that Canada's worst maritime disaster was simply forgotten?  Take a journey into history and recount the final hours of the Empress of Ireland and those who would soon forever be entombed within her.
Find out what makes the Empress one of the most challenging dives in the world and how the site is now changing from year to year. What is it about this dive that lures the adventurous, and why is it that some don't survive?