By his own admission Tom Wilson dives essentially for one reason: to capture photographs. You may have seen the fruits of his efforts in the magazines such as Diver, Advanced Diver, Scuba Press, Immersed, Ottawa Outdoors, and even the Toronto Star, all concentrating on the amazing wrecks of the Great Lakes which he firmly believes offer the best wreck diving in the world.
To compare he has traveled to such places as Roatan, Truk Lagoon, Turks and Caicos, Bahamas, Florida and North Carolina but has found they pale in comparison to the diversity and numbers we have in our own backyard. Tom is a PADI Master Scuba Diver Trainer, and holds various certifications from IANTD, TDI, and GUE all the way up to full trimix and full cave. He enjoys teaching underwater photography, along with ice diving and nitrox courses.
Great Lakes Shipwrecks &  Photography Techniques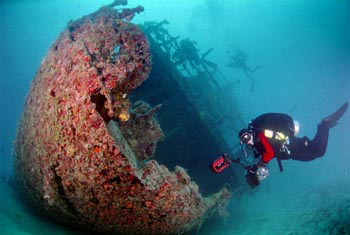 With a collection of wrecks that surpasses anywhere in the world for variety and sheer numbers, divers in the Great Lakes are often faced with the challenge of bringing back captivating images of what they have seen. However, accomplishing that in water that is often cold, dark, sometimes current-rich and with questionable visibility, can test you and your gear to the limit.
Tom will present a number of his favourite shipwrecks and in the process share his tips and tricks to help take some of the mystery out of photographing wrecks with an emphasis on the challenges faced by divers in the Great Lakes.