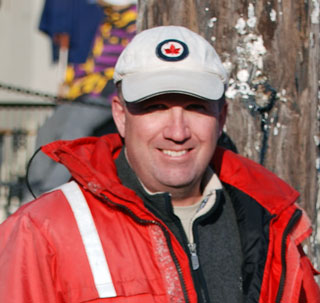 Scott Stitt is a former commercial hard-hat diver with hundreds of hours of mixed gas and saturation dives logged in the offshore oil and gas industry. He's worked with Texas A&M University and the Institute of Nautical Archaeology (INA) as an underwater field archaeologist.
Scott is a trimix instructor and cave diver, who's worked as an underwater videographer and technical dive supervisor for the Undersea Explorers television show.
Scott is one of a very select few to have ever dived upon local shipwrecks Hamilton and Scourge. Scott continues to work as a diving photojournalist.
Shootouts, Shipwrecks and Sharks in North Carolina
In the early part of 1942, the outer banks of North Carolina were a battleground. German U-boats sank so many ships in these waters the area became known as "Torpedo Alley". Today, these shipwrecks have become part of an extensive network of artificial reefs, a thriving habitat to an uncountable number of fish species. The waters off North Carolina provide divers an unparalleled opportunity to explore historic shipwrecks while also taking in one of the region's most fascinating predators, the Sand-tiger shark.
This setting provides underwater photographers with some amazing photo opportunities.
Join Scott Stitt as he recounts his participation in North Carolina's annual Shipwreck and Shark – "Shootout" photo competition.