Kevin Magee lives on the west side of Cleveland, Ohio, USA, and works as a mechanical engineer for ZIN Technologies, Inc., an engineering services contractor that mainly serves NASA Glenn Research Center. His work involves the development of space experiments, including their design, fabrication, assembly, testing, and flight operations. These experiments investigate the fundamental physics and behavior of combustion and fluids in microgravity. He has worked on projects that have flown on the Space Shuttle, International Space Station, sounding rockets, drop towers, and parabolic aircraft.

In 2001 David VanZandt and Kevin founded Cleveland Underwater Explorers, Inc. CLUE is a non-profit corporation whose members include divers and historians dedicated to researching, locating, exploring, and documenting the shipwrecks and submerged history of the Great Lakes. CLUE has discovered and documented over 20 shipwrecks, which can be found on the CLUE web site clueshipwrecks.org.

Kevin began snorkeling as a kid in Florida, became certified in 1984, and received his trimix certification in 1999. Kevin's web site is Diving the Great Lakes  www.greatlakeswrecks.info.
Railroaded – The Wreck of the Schooner Plymouth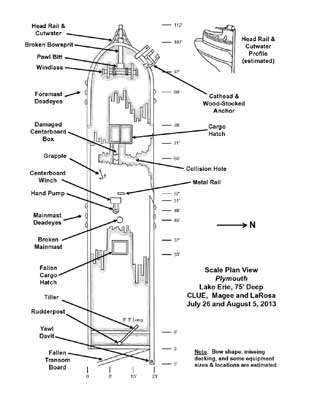 An unidentified shipwreck was located in 1996 by CLUE (Cleveland Underwater Explorers) member Rob Ruetschle in Lake Erie, approximately 20 miles off Cleveland, Ohio.
In 2013 CLUE re-visited and surveyed the shipwreck in the hopes of firmly identifying it. After extensive archival research and in-water survey work, it was determined to be the two-masted schooner Plymouth, which sank on the night of June 23, 1852, in a collision with the sidewheel steamer Northern Indiana.
Not only is it an excellent "diver's wreck," but research into the incident has revealed a fascinating story about the steamer's voyage, a U.S. President, and the eventual creation of right-of-way rules for sailing vessels. It is a powerful story of government, commerce, and tragedy.