For 38 years Jim & Pat Stayer have been diving in the Great Lakes and around the world.  Pat is a member of the Women Divers Hall of Fame and Jim has been a U.S.C.G Licensed Captain for 27 years. 
They have co-authored three books and produced 23 DVDs.  The Stayers have discovered eight shipwrecks and documented numerous others.  They have worked as cameramen for the History Channel and their footage has appeared on several major commercial networks. 
Jim and Pat have been popular presenters at dive shows across the country. More information is available on their web site; Out of the Blue Productions
Tuskegee Airacobra Down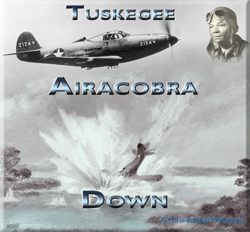 The Great Lakes are known for their shipwrecks but beneath their waters also lie many planes. One of those planes was piloted by Nathaniel P. Rayburg, a Tuskegee airman and well-known sports writer, and went down on December 12, 1943 during a training flight.
The program includes an interview from a Tuskegee airman who was also trained on P-39s at Selfridge Airbase. Join the Stayers as they dive into the St Clair River and explore Rayburg's WWII P-39 Airacobra.