Jim Kennard has been diving and exploring the lakes in the northeast since 1970. He has found over 200 shipwrecks in the Great Lakes, Lake Champlain, NY Finger Lakes and in the Mississippi and Ohio Rivers over the past 35 years. Using his background as an electrical engineer, he built the side scan sonar system that located many of these shipwrecks. In 1983 he discovered a unique horse powered ferryboat in Lake Champlain. National Geographic featured the ferryboat in their October 1989 issue. In May 2008 he and Dan Scoville discovered the British warship HMS Ontario, the oldest shipwreck ever found in the Great Lakes, and just recently a rare 200 year old dagger-board schooner, both of which received worldwide attention in the news. Several other of his shipwreck discoveries have been reported in various publications including Skin Diver, Wreck Diver, Inland Seas, and Sea Technology.
More information can be found on Jim and his discoveries at his web site; Shipwreck World.
HMS Ontario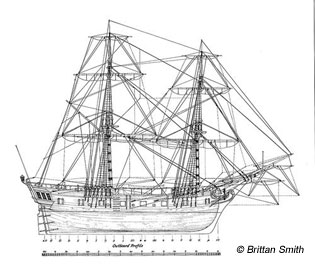 In the early evening hours of October 31, 1780, the British sloop of war HMS Ontario sank with over 120 men, women, children and prisoners on board during a sudden and violent gale. The Ontario had departed earlier in the day from Fort Niagara near the western end of Lake Ontario, for Oswego and then on to Fort Haldimand located on Carleton Island in the St. Lawrence River.
The following day some of the Ontario's boats, hatchway gratings, binnacle, compasses and several hats and blankets drifted ashore in the area that is known today as Golden Hill State Park, located 30 miles east of Fort Niagara in New York State.
Following the reported loss of the Ontario, the British conducted a wide search of the area on land and water. A few days later only the ship's sails were found adrift in the lake.
In late July 1781, six bodies from the Ontario were found approximately 12 miles east of the Niagara River near Wilson, NY. This was the extent of the items ever found from the ship until its recent discovery.
Shipwreck enthusiasts Jim Kennard and Dan Scoville located the ship utilizing sophisticated side scanning sonar and an underwater remote operated vehicle. HMS Ontario is the oldest confirmed shipwreck and the only fully intact British warship to have ever been found in the Great Lakes.