Authors of the recently released Erie Wrecks and Lights, Mike and Georgann are well known for their other two books, Erie Wrecks East and Erie Wrecks West. They have been diving around the world since the early 1970's.  However, nowhere else in the world have they discovered the kind of pristine and perfectly preserved shipwrecks that lie in the fresh waters of the Great Lakes.


As their passion for shipwrecks grew, they began the extensive research exhibited in the Erie Wrecks books.  What was once a part time hobby became a full time investigation of the myths and realities behind the thousands of shipwrecks in the Great Lakes.  In addition to their books, Mike and Georgann have published numerous magazine articles, and are actively involved in creating diver access to and preserving Great Lakesmaritime history.  Both have been active in the Maritime Archaeological Survey Team (MAST) where Mike is past president and Georgann has been treasurer. Under Mike's tenure, 6 shipwrecks in Ohio waters were moored for divers.  They serve actively in several dive clubs, including the Bay Area Divers (BAD) and Lake Erie Wreck Divers.  This makes them both BAD and LEWD.

Georgann is an accomplished researcher who is sought after as a speaker on sport diving, Great Lakes shipwrecks, and aquatic life. Her marine artwork has been exhibited around the Great Lakes.  Mike makes his living as a management consultant and public speaker. For both Georgann and Mike, their first love is shipwreck diving.  The collaboration of Georgann's love of research and Mike's love of story telling provides the fuel for the Erie Wrecks series
Shipwreck Survivor – The sinking of the Carol Sue II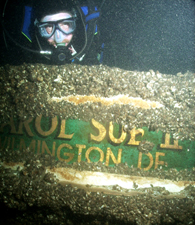 Have you ever wondered what it would be like to survive a shipwreck?  Better yet, what would it be like to dive on the wreck after you survived the sinking? 
Well, shortly after daybreak, seven miles north of Conneaut, in five foot waves the Carol Sue II suddenly took on water and sank.  Jim Wilson was at the helm and survived the sinking of this historic Chesapeake Bay Buy Boat in 1999.  In 2007 Jim revisited the wreck with authors Mike & Georgann Wachter. 
This presentation provides the horrifying story of the loss and the cleansing tale of revisiting the wreck through the eyes of a shipwreck survivor.