Geoff Barker and Linda Preston are a husband and wife team who love to dive, explore and photograph shipwrecks.
Geoff has been diving since 1967, first with the British Sub Aqua Club off the South and West coast of Britain, where there is a rich diversity of sea life. Wanting to recall all the amazingly new stuff he was seeing he became an underwater photographer using home–made housings at first.
Pursuing new career horizons, he emigrated to Ontario, Canada in 1975, knowing little of the diving there – just that the Great Lakes must have something worth diving on! He soon discovered the amazing maritime heritage uniquely preserved by the cold fresh waters of the lakes, and realized that here was a lifetime project for an underwater photographer. He joined Niagara Divers Association in 1997 after Brock University and George Brown Scuba Clubs and uses his boat to assist with the Eastern Lake Erie mooring project. Geoff also enjoys astronomy, fixing things and playing the flute.
Linda has been diving since 1987 and soon developed a love of shipwreck diving and boating. She is Geoff's dive partner, crewmember, model and now an underwater photographer herself. She also loves coral reef diving, travelling, costume making, interior design and her wonderful children, two of whom also dive. She comes from a long line of Scottish shipbuilders – one of whom worked on the vessel that brought her to Canada when she emigrated, the SS Empress of Canada!
Geoff and Linda now dive from their own 28 ft. boat that allows them to reach known shipwrecks throughout the Great Lakes. They now live in Port Colborne which is a great little town that has maritime associations they cherish.
Over the years Geoff has won a number of awards for his underwater photographs and has had a number of photographs published in books and magazines. His main photographic interest is in conveying the unique diving experience of exploring an historic shipwreck. He prefers natural light with minimal artificial light. His long-range goal is to publish a photographic essay on Great Lakes shipwrecks.  Some of Geoff's photos may be viewed at  Geoff Barker-Images.
Geoff and Linda are married and have been together for twenty nine years and have three grown children whom they love very much.
Shipwrecks of Michigan's Upper Peninsula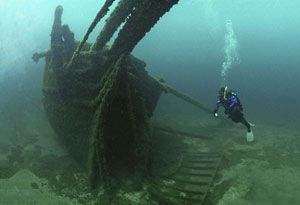 Michigan's Upper Peninsula is surrounded by dangerous waters that have caused more than their fair share of shipwrecks – tragic for sailors and their families at the time, but a fascinating maritime heritage for divers to explore since the advent of Scuba.
Geoff and Linda have been diving in this area for 25 years from their own boat and will present a photographic narrative of their underwater exploration of some of the numerous shipwrecks from the Straits of Mackinaw that join Lake Michigan to Lake Huron, to the Keewenaw peninsula in South Eastern Lake Superior.