Dan Hall is funny, poignant, and unavoidably engaging. Though he is best known for his critically acclaimed songs about the Great Lakes shipping trade, his song, "The Day that Dan Hall Died", (a tribute to his days as a pub singer) continues to make audiences shriek with laughter. David Siglan, director of The Ark in Ann Arbor, Michigan, said, "It's one of the best damn songs I've ever heard."
"Dan is a Randy Newman-class song writer with a great voice" says Jim McTiernan, director of the Flint Folk Music Society.
Over the past 13 years, Dan has written and performed over 400 songs with more than 50,000 elementary students
through his Story Song Creations artist-in-residence program. Working primarily in Michigan allowed Dan the luxury of being able to make a living as a musician while being a full-time dad to his three children.
His sons are out of college, his daughter is in high school and Dan is finally ready to tour and share his eclectic catalogue of wonderful songs with the world.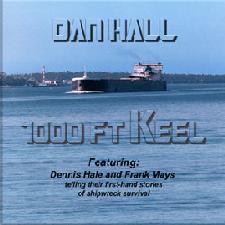 Stories of Great Lakes Ships and their gallant seaman are told in song. Dan's performance is a touching and poignant tribute to both the vessels and men and women who sailed them.