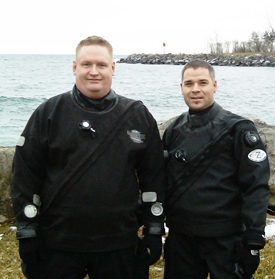 Chris Phinney, Project Director and Bryan Thomas, Dive Coordinator for Liquid Archaeology will present the history, identification and diving of the wreck Southern Trail. The Liquid Archaeology Survey team has been working on the wreck of the Southern Trail for over 5 years.  Chris is an IT analyst and amateur archaeologist working towards anarchaeology degree at McMaster University in Hamilton, Ontario. Over the past 5 years he has earned an NAS level 2 qualification through the Nautical Archaeology Society in Portsmouth, England and has led three wreck survey projects on the Great Lakes and participated in other survey projects through Save Ontario Shipwrecks. 

Bryan is a telecommunications specialist with Bell Canada. A professional in the dive industry, he is a technical diving instructor and also holds the NAS level 2 qualification. Bryan is a founding member of Liquid Archaeology and has participated in numerous surveys on the Great Lakes with Liquid Archaeology and Save Ontario Shipwrecks.
The Motor Yacht Southern Trail
Built for a wealthy New York solicitor, she was the finest money could buy. Throughout her 60 years on the waters of the easternseaboard and Great Lakes, she would be owned by a real estate mogul, a high society family, the inventor of the pull out sofa and finally an investor hoping to strike it rich.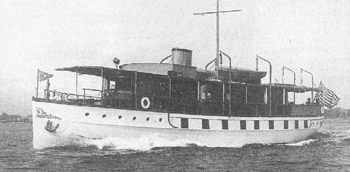 Her final resting place is close to the major center of Toronto, Ontario and is rarely visited by divers. At a recreational depth of only 35 ft she is ideal for training and pleasure diving.
Her graceful lines and unique features such as a fantail stern and curved glass windows still show though the zebra mussles and silt. Surveyed extensively for over 5 years by the Liquid Archaeology survey team under License to the Ontario Ministry of Culture, she has been identified, catalogued and recorded.